ouh today is 14.02.11
OMG ! its my anivesery nih .alhamdulilh ya allah .
for sure u all nk taw spe jejaka yg memikat aku kn .
jom

. . dgr

love story

aku skit .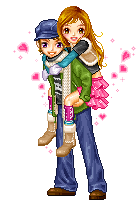 kami couple since 14feb06 .
that time aku form 3 .
kami knl pon dlm fon .tah mcm mane leh couple lak .
he is very special for me .
carring+loving+kind=romantic
love him soo much .i cant live without him .
trlalu byk dugaan yg kami tempuh .sgt mencabar .
dia ta lah handsome mane but aku tetarik dgn sikap dia n hati dia .
dlu parents aku ta restu hubungn kami coz dia tidk bekerjaya but now dia dh bukti kan pd my mum n dh bekerjaya .
OMG ! so sweet ryte .
pd aku rupa paras ta menjanjikan apa2 ryte .
but aty n perasaan to yg sgt bernilai .
ouh ! mcm nk nangis rse .
ok stop !
jom lyn pic kami bersama . .
2006
2007
2008
2009
2010
2010
2010
2010
2011
2011
yanjantz
thats is our name .
'yan' for yana n its me .
'jan' for him, fauzan .
'tz' saje tok tambah lg enak .
hahahah